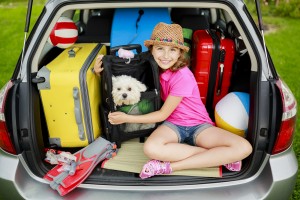 "In the Summertime, when the weather is fine…" people travel with pets!
Here is a short list to check-off before you take-off:
Veterinarian Phone number
Any medication's your pet is on (including Benadryl in case they get stung)
Remember a leash! Many rest stops regulate pets and want them on a leash at all times.
Bring a water Dish and Water Bottle, so they have something to drink out of.
Dog/Cat food and Treats (Some brands are hard to find and you do not want to switch foods on a trip as it can effect the pets digestive system)
Leave room for pet, when packing owners often try to cram the dog underfoot or put the cat facing backwards in hatchback.
A few Do's and Don'ts:
DO check with the hotel to make sure you have a pet room, and verify if there is an additional charge
DO check with family so that they know your pet is coming with you and are prepared
Do NOT leave your pet in the car while you break to eat, instead get food to go or find a restaurant with outdoor seating
Do NOT feed your pet anything unusual because they could get gassy, stinking up the car
DO consider having Four Paws Pet Sitting watch over your pet, if they don't travel well, are a puppy, or are older and are used to a routine!