Four Paws Pet Sitting Services' Morrisville pet care specialists are ready to meet your needs. Our professional, sitters and dog walkers are fully licensed, bonded and insured and are sure to please you and your cherished pets whether you are gone for a day or several days. Morrisville, NC is part of the RTP area and we proudly serve many families in the area. Most of Morrisville is in Wake County which is the area we service. Our services include pet sitting for dogs, cats, birds and small mammals, dog walking, house sitting, overnight pet visits, medicine administration and pet taxi service.
Give us a call! 919-388-PAWS.
Morrisville Pet Sitters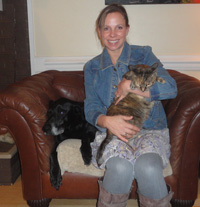 Tracy A. is a stay-at home mom with two young girls. She left her career as a Commercial Interior Designer to stay at home. She works part time managing a Kids Club in a local gym. Over the years she has had dogs, cats, squirrels, a rabbit and ducks. She shares a true love for animals and respects the love that owners have for their pets. She loves to exercise and walking dogs is one way to get in some extra exercise for the day.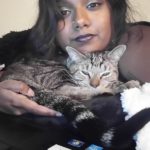 Shannon Y. Shannon is currently a college student who has a passion for animals. She is a owner of a beloved feline named Oliver and has also been a rabbit owner in the past. She has been a past volunteer at the ASPCA of Raleigh and also at Carolina Tiger Rescue in Pittsboro. Shannon looks forward to seeing your pets happy faces!