Four Paws Pet Sitting Services is a full service professional pet sitting and dog walking company proudly serving all areas of Cary, NC. Cary is the home to over 22 public parks and more than 170 miles of biking and walking trails. The town of Cary has a dog park which is about one acre in size and located adjacent to Godbold Park, near the corner of Northwest Maynard and Chapel Hill roads. We offer pet sitting, dog walking, overnight visits, mid-day dog walks, potty breaks, house sitting, and pet taxi services in Cary and have had many happy pet parents for over 14 years.
Give us a call! 919-388-PAWS.
Cary Pet Sitters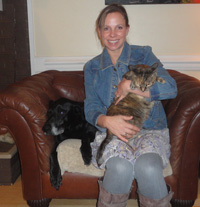 Tracy A. is a stay-at home mom with two young girls. She left her career as a Commercial Interior Designer to stay at home. She works part time managing a Kids Club in a local gym. Over the years she has had dogs, cats, squirrels, a rabbit and ducks. She shares a true love for animals and respects the love that owners have for their pets. She loves to exercise and walking dogs is one way to get in some extra exercise for the day.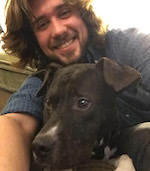 Taylor B. is a 23 year old passionate musician/environmentalist who also has a sincere love for animals! When he was 3 years of age, he can remember pleading with his mother to get a puppy and sure of enough he did. His choco-lab lived to be 16 and he took care of her as if she was his full responsibility. A year ago he got the sweetest lab-pit bull pup named Booe and he is his world! Taylor has had cats and dogs and reptiles throughout his life and he feels it is an honor to be working and sharing a life with these creatures.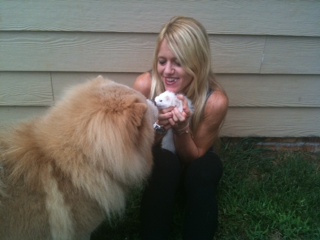 Angie C. has loved animals all her life and has found them to be the best friends and companions a person can have. She enjoys loving and caring for her own pets and always volunteers to look after her family members' little buddies when they are away. Angie is a home schooling mom blessed with five wonderful kids. She enjoys running, yoga, and reading pet related forums on the internet. Her three year old Chow-Chow, four year old ferret, and her thirteen year old Bengal cat love her unconditionally as she does them!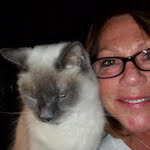 Maggie C. Maggie C. moved to NC in 1997 from New Hampshire. She can't remember a time when she was without a cat or a dog. She has 4 cats; Sammy (shown in photo), Zachary, Rosie and Gracie. People call her "the cat lady" but rest assured she loves all animals. At home she has several bird feeders to attract and care for various bird species. Recently purchased a 10-pound bag of shelled peanuts for the squirrels! She enjoys gardening, canning her produce, drying herbs and hot peppers to make her own spices most of which are generally are shared with family, friends and neighbors.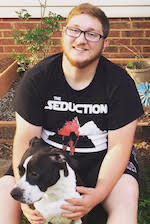 Spencer H. is 23.. and a very seasoned animal lover. Spencer grew up with animals and has continued to have animals as a big part of his life. Spencer has a dog named Raven, and a cat named Dennis. Spencer has always had a soft spot for animals, especially pit bulls! He enjoys playing music as well as watching football and hockey. He is very excited to care for your fur babies.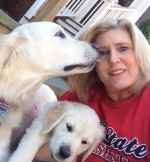 Lois K. is owner of Four Paws, and has worked as a veterinary technician. She stays current on first aid and CPR training. Throughout her life, she's had dogs, cats, birds, hamsters, guinea pigs, gerbils, fish, ferrets, turtles, iguanas, and even a goat have been her pets – so to say she's an animal lover is an understatement! She wants to give your fur babies lots of love in your absence.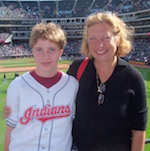 Ann R. moved here from Ohio. She is a life long animal lover having owned dogs, cats, horses, chickens, goats, a snake, gerbils and probably some others! Pet sitting allows Ann to fulfill her need to be a tender care giver for your pets. As a medical professional, Ann brings a practiced clinical eye to pet health and a happy, playful demeanor to allay the stress that our beloved pets can experience in their owner's absence. She is committed to safety, great communication and to exceeding customer expectations.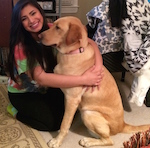 Eliana S. is currently a college student working towards becoming a veterinary technician. As a life long animal lover Eliana was lucky enough to grow up with a wide variety of pets and has recently adopted a Plott hound/ Pitbull mix of her own. She finds joy in caring for animals and looks forward to providing the love and care your pets need while you are away.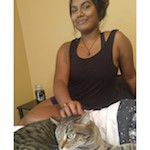 Shannon Y. Shannon is currently a college student who has a passion for animals. She is a owner of a beloved feline named Oliver and has also been a rabbit owner in the past. She has been a past volunteer at the ASPCA of Raleigh and also at Carolina Tiger Rescue in Pittsboro. Shannon looks forward to seeing your pets happy faces!