Four Paws Pet Sitting Services couldn't agree more with Garner's town's motto "It's a Great Place to Be". Garner is located about eight miles south of Raleigh and has a small town atmosphere which makes Garner a special place. Our Garner pet sitters and dog walkers are available for your pet sitting needs. Our pet sitters are bonded and insured and have passed a criminal background check.
Does your dog or puppy need dog walks or a potty break while you're at work? We offer vacation visits for cats, dog, birds, fish and other small pets, dog walks, overnight visits, house sitting, and pet taxi services.
We service the Cleveland School area, the 40/42 area.
Give us a call! 919-388-PAWS.
Garner Pet Sitters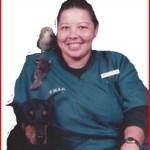 Marie M. has always enjoyed being with animals in some capacity. She works as a veterinary technician and is going to school to become a paralegal. She enjoys sewing, crafts woodworking, calligraphy, miniatures and gardening. She loves exotics in particular birds.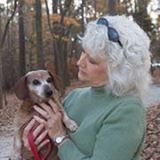 Denise R. grew up in the country and always had multiple pets that stayed both in the home and outside. She completely understands the pet owner who feels as if their pets are their children, because she feels the same way – and really knows the importance of having someone caring and trustworthy to take care of those children while the owner is away from the home. When Denise isn't watching your pets, she works at a bank, and also antiques… any time left over lets her enjoy her cooking and gardening interests.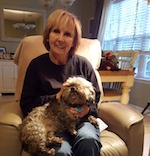 Gerrie S. "They say Life Is Good, but it is really, really good when you retire and get to play with your fur babies!" Gerrie has recently retired from a corporate job but along the way came five boys and lots of animals. She and her husband are empty nesters. She enjoys gardening, traveling, and friends. Gerrie gets a calm sensation being around animals. She looks forward to taking care of your fur babies!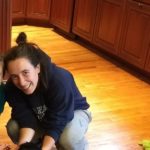 Kelly F. Kelly moved to Raleigh for school about 5 years ago and decided to stick around! She used to care for local pets in her home state of Maryland and would love to continue the experience in NC! She grew up with a dog and has enjoyed pet sitting a variety of animals including: dogs, cats, pigs, alpacas, and chickens! She looks forward to meeting and taking care of all your animals!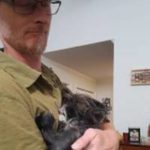 Larry M. After serving in the military and I rescued a Shar Pei and an English Bulldog. They were my best friends. I've worked for an app-based pet sitting service and have over 320 Five-Star Reviews from recurring clients and random one-time ASAP requests for walks. I don't treat this like a "job", I see every visit, however easy or difficult, as a fun adventure. I am so happy and excited to be part of the Four Paws Family!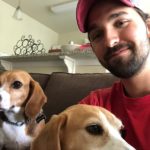 Stu M. Recently moved from Raleigh to Garner and has enjoyed owning and caring for animals all of his life. He and his lovely wife have two beagles they adopted from the NC State vet school and they also own two little rats they adopted from a local breeder. Stu is currently attending NC State, pursuing a degree in Agribusiness Management and hopes to start a small farm with his wife in the near future. When not in school or taking care of your pets, Stu enjoys fishing, reading, and playing the piano.