Four Paws Pet Sitting Services offers pet sitting and dog walking in Knightdale, NC, a wonderful place to live, work and play. Four Paws is proud to be a part of this community. We have been pet sitting for many families here for over 14 years. Our service in Knightdale includes mid day dog walks, pet sitting for dogs cats and other small mammals, overnight pet visits, and pet taxi services. All of our professional pet sitters and dog walker are bonded and insured and have passed a background check.
Give us a call! 919-388-PAWS.
Knightdale Pet Sitters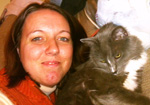 Kyla M. has always had a passion for animals. She loves being able to get to know and play with new pets.For her it is such a joy to be greeted with excitement each time she visits your pets. Kyla also works part-time with the public and the rest of her time she spends taking care of her family and house. She enjoys reading, music and spending time with family and friends.