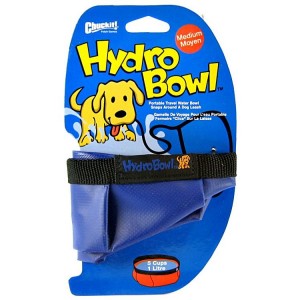 Portable water bottles with drink bowls? Food bowls that pop up? Who thought of these things – why, pet owners like you!
Now, when you travel for a weekend or week-long trip, your pet's dishes are more portable and easier to use. The following products are light-weight, small, and pet-tested / owner approved!!
For food dishes, try one of these three:
1. Gamma Vittles Vault TRAVEL-tainer Portable Pet Food Container
"It keeps your pet food fresh, in an easy carry, airtight, food grade plastic container. Just remove the carry handle and pull off the food/water dishes. Twist off top of the Gamma Vittles Vault TRAVEL-tainer Portable Pet Food Container and pour!" Cost: $ 8.99
2. Popware for Pets
Collapsible Travel Cup with Carabiner (BIG clip) is an "expandable food and water cup that you can latch onto your dog's leash when you are on the go. BPA free. Collapses to less than 0.5 inches thick. Quick-release clip attaches to leashes, belt-loops, purse, stroller". Cost: $6.99
3. Chuckit! Hydro Travel Bowl
Folds up and snaps into a compact size. Easy to clean! The Hydro bowl has a 5 cup capacity. The price point is right, coming in under five. Cost: $4.99!
Now, on to the thirsty pet problem. How often have you cupped your hands to share your water bottle with the dog? Or had them gulp as you slowly pour it out? Neither method works and that's why there are now water bottles with a bowl attached! One of the coolest products is the:
1. PET PortaBottle Travel Water Bottle
Holds up to a 20-oz bottle of water. Flip-down bowl is attached to the water bottle, handy tether for hanging from a bike, shoulder, stroller, backpack or vehicle. Cost: $17.69
2. Martha Stewart Pets® Double Travel Bowl
2 in 1 travel bowl. "The double bowl design accommodates food and water, and the drawstring closure lets you store food for later use. The side pocket also provides storage space for treats". Cost: $13.49
3. OurPet's Speed-e-Drink To Go
"Just insert a (16.9 ounce) water bottle into the specially designed holder and turn upside down. The holder is designed to dispense water into the attached tray without your dog's mouth touching the opening of the water bottle." Cost: $3.49
So choose the style that's right for you, then take that much-needed vacation with your furry best friend!