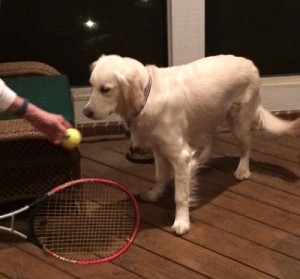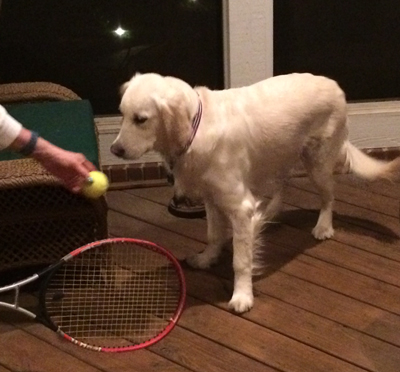 Today was sunny with a light breeze and I headed out with my owner for a few games of tennis.
Now, I have an important role and it's called "Retriever".
Anyone with a medium to large sized dog can play this version:
Step 1: Owners hit the tennis ball back and forth inside the gate and you follow it with your eyes (great neck exercise) outside the gate.
Step 2: When the yellow tennis ball goes outside the court, you must hunt it down (mental challenge and nose exercise)
Step 3: Grab ball in mouth and carry back to tennis court (strengthening jaw/neck muscles)
Step 4: Occasionally, I find a mystery ball that doesn't have my owners scent. This one is called a "keeper" and I get to keep it all to myself!!
For dog owners everywhere, there is a great toy that accompanies tennis balls and makes it easier to reach down, scoop it up, and throw it farther: Chuckit! Sport Launcher found in most pet stores and on-line.
There is also a website for affordable bulk dog tennis balls that don't have wool so I will not get hairballs: Pet Tennis Balls
Do you need a pet sitter in the Raleigh, Cary Apex, NC area?
We would be honored to be your fur baby's sitter or dog walker and we love to play games and throw balls.
Call Four Paws Pet Sitting Services! 919- 388-PAWS