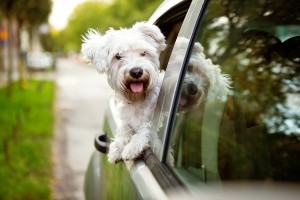 To get a dog or cat from it's current spot to a loving home, volunteers offer to drive part or all of the distance with the animal. My friend just became a part of this amazing puzzle over the weekend!
It started with a sick 5-year old's announcement that Santa was bringing her a tiny white dog with a big brown spot for Christmas. She fixated on this one thing and even prayed for it at night. Her poor parents tried to convince her that a cuddly, stuffed dog would be a wonderful present but the girl cried out "No! I just know it's going to be a real dog!"
So, the couple searched every local rescue and pet-agency for a small white dog with a spot. This time of year, there was nothing even close! They searched far and wide, even looking outside the state and region. Finally, they located a small white dog with… one spot! An older woman in New York was moving into an Assisted Living Home and could not bring her dog.
The couple struggled with how to bring the dog over 509 miles to their home in Raleigh, North Carolina by Christmas. They posted a "Can you help us friends?" request on Facebook and it was re-posted several hundred times!
The wonder of Social Media is that all the puzzle pieces came together, and here is how the pet train finally happened:
A co-worker's cousin was going from New York to Washington DC and volunteered to take the pet this first leg of an 8-hour journey. A friend's mother could take the pet from DC to her holiday destination of Richmond, VA. From there, a vet was heading to Wake Forrest to be with her family and volunteered to meet the Coleman's at a Walmart parking lot with their new dog.  Everyone was thanked on-line for their role in the pet-transport train and the little girl will get her wish-come-true on Christmas morning. For now, the little white dog with a spot is staying with a friend and has no idea how many people volunteered to make it's future brighter.