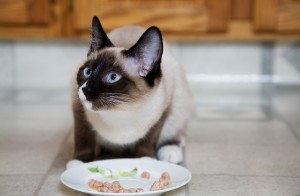 Friskies 3 oz. can for $0.99 with 172 calories; Hills Prescription Diet 5.5 oz. (split can in half for each feeding) 180 calories; Iams chicken 3 oz. 94 calories; Drs. Foster Smith ($30.00) for 24 cans 94 calories & must be ordered by vet or on-line.
For adults:    It is best to feed a more moisture-rich food from a pouch or can. Feed them twice a day but take uneaten their food away after 2 hours so that they don't graze. Make sure there are NO added preservatives, colors or flavors.
Store brands (3 oz size):
Fancy feast ($0.75) 76 calories; Iams ($1.00) 96 calories; Evo ($3.99) 120 calories; Blue Wilderness ($2.00) 132 calories; Hills Prescription Diet 180 calories
Healthier Foods:
A new product, Nature's Variety,  is a pre-made Raw food you can order at: http://www.naturesvariety.com
Also check out Wellness food in a pouch, it is grain free and the consistency of gravy $1.59 per 3 oz. pouch
May your cat find what it is craving!!