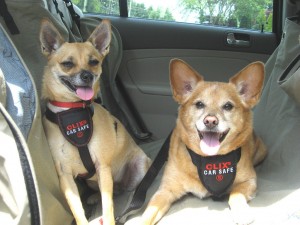 Picture this: a dog hanging out the car window, ears flapping in the wind, a silly grin on his face as his tongue shivers with excitement. We have all seen this joyous picture – yet the reality is that unrestrained dogs are not safe!
Accidents happen. Your pet could be launched from the vehicle like a projectile missile. "A 10-pound dog that's not restrained can generate 500 pounds of force in a 50-mph crash." – AAA. He could also collide with the kids in the car or tumble into the front seat and interfere with the drivers control of the vehicle!
AAA did a study in 2011  that listed "Pets moving around in the car as the 3rd worst car distraction".  Other distracting behaviors that drivers have admitted to include: reaching in the back to entertain their pet, letting their dog ride up front on their lap, and taking a hand off the steering wheel to restrain their pet.
To prevent accidents due to pets in vehicles, North Carolina now strongly urges pet owners to invest in a safety harness for their dog. Below is a comparison of five different safety harness styles and their features.
Some of the seat belts have an extension you can purchase for more range of motion. Of course, you have to follow the installation instructions carefully. In the end, you could be saving the life of "Man's best friend".
I. The Company of Animals Clix Car Safe
http://primepetsupply.com/product/clix-car-safe-harness-for-dogs
Price: $13-$27
Sizes: X-small 14-25 inch chest, Small 21-25.5 inch,  Medium 23-29.5 inch,  Large 29.5-37 inch
Features:
1. Soft neoprene padding and "X-Cross" design for comfort and protection
2. Doubles as a walking harness
3. clicks directly into the seat-belt socket or by sliding the seat-belt through the harness
4. Uses double-sided adjustable buckles that clip together without needing to manipulate your dog's legs
II. Solvit Pet Car Safety Harness
Price: $25 to $33 for large dogs
http://www.chewy.com/dog/solvit-pet-vehicle-safety-harness/dp/53723
Sizes: Small 6-25 lbs., Medium  20-55 lbs., Large 45-85 lbs., X-tra Large 60-120 lbs.
Features;
1. Heavy-duty straps attach to a fully-padded vest, with a breathable inner layer for optimal pet comfort.
2. Only FULL METAL connectors are used at all load-bearing points.
3. integrates with the vehicle's seat belt tensioning device, thus providing range of motion while traveling, but in the case of a sudden stop it locks in place to keep pets secure
4. Washable yet plastic buckles not as sturdy as metal would be
*One Year Warranty
III.  Pet Vehicle Safety Harness
Price: $29
http://www.rakuten.com/prod
Size: one size adjustable
Features:
1. Fully-padded chest piece, extremely comfortable per 100 reviews from pet owners
2. Made of high quality automotive materials such as seat belt webbing for extra durability.
3. Five adjustment points for a perfect fit on all shapes and sizes.
4. Integrates with vehicle's seat belt tensioning device to provide range of motion while traveling, but locks during sudden stops.
5. Easiest to use harness available today.
IV. Guardian Pet Specialties Pet Safe-T-Belt
Price: $29-$49 for large dogs
https:petedge.com
Sizes: X-small 3-7 lbs.,  Small 7-19 lbs. ,  Medium 20-50 lbs.,  Large 51-100 lbs.
Features:
1. High end, quality product with very durable material – strong, soft nylon, with stitching and fasteners on the outside
2. High level of restraint keeps pet secure
3. Adjustable safety strap allows pets to sit, lie down or stand comfortably
4. Compatibility: Universal seat belt clip fits most vehicles (Does not fit SAABS or Ford Explorers)
*One year warranty
V. Four Paws Pet SafetySitter
Price: $12
http://www.wag.com/buy/Brand=Travelin-squot-+Dog?subcatalog=dog
Features:
1. Affordable, well made, with strong, soft, double-stitched nylon and sturdy hardware
2. Instructions are clear and well-illustrated
3. An added feature is the sturdy metal ring stitched into the back of the harness that you can clip a leash to so it doubles as a walking harness