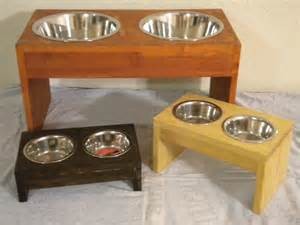 My neighbor adopted an 18-month old Border Collie (Jack) to be a companion to her older Australian Shepard (Lola). Of course, the herding mentality and bumping up against the Lola was bad enough – but then the little runt rushed her food bowl and dribbled water everywhere from their joint dish – something had to be done right away! So she went to the Pet Store and bought a Platinum Pets Double Diner Dog Stand ($19 for x-small to $54.99 for X-tra large size). Plastic versions can be found by Pet Mate and Grreat Choice for around $29.99 and a stylish wooden "table feeder" by Top Paw costs $34.99.
According to the Dr. Foster and Smith website, older dogs such as Lola benefit from the raised bowls because:
1. Cleaner – the food and water don't get underneath bowl and grow mold.
2. Eating from a raised bowl eases joint strain and neck tension during feeding.
3. Better posture by eliminating uncomfortable bending or crouching.
4. Reduces choking, really a great aid for dogs with megaesophagus that have difficulty swallowing, or other digestive problems.
Now she focused on her new dog, sloppy-Jack, and his habit of scooting the dish across the floor as he ate. She tried Grreat Choice® Non-Skid Dog Bowl with a wide-base, rubber coating and it was fairly heavy. Great improvement!
Next, she addressed the water bowl area that was always wet from Jack's sloppy lapping, damaging her hardwood floors!  There were a variety of mats to place underneath the dishes, ranging in price from the inexpensive Top Paw Dog Placemat for $10.99 to the personalized  Drymate Paw Border Waterproof Pet Mat for $19.99.
Both dogs are doing well, although Lola still believes Jack's manners should put him in the doghouse out back!
For those of you that want something more sophisticated, there are the $159 Designer Pet Eatery Wall Mounted Bowls . They have to be installed by a professional since the waterline attaches right to the water bowl side. The dog's bowls are inside a square frame that is mounted within the wall and then elevated to the height you need. Bowls are removable and can hold up to 6 cups of food and they aren't going to be knocked over or scooted around!