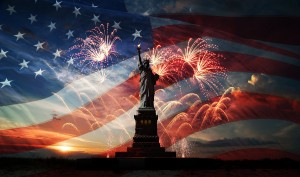 Independence Day is fast-approaching, and we'll soon be commemorating the birth of our nation with pool parties, barbecues, and FIREWORKS!
For humans, this can be a great celebration; but, for some pets, these festivities can be the source of immense stress.
Did you know that animal control services across the nation typically see a 30% increase in lost pets around this time of the year?
Make sure your pet gets plenty of exercise or play before the fireworks begin.
A tired pet may lack the energy to even notice the noise.
Speaking of noise, have your TV on fairly loud or some music to help cover up some of the sound of fireworks.
You can help your dog with the anxiety by using a Thundershirt. They really work!
There are some calming products to use such as chamomile, artificial pheromones and nutritional supplements.
As always, make sure your dog has a ID tag.