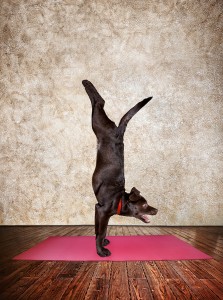 The greatest joy for your pup could be AGILITY! These classes work with your pets energy level and natural abilities. The owner (handler) directs their dog through a course of obstacles, testing both owners teaching skills and dogs reaction time. "Competitors race against the clock as they direct their dogs to jump hurdles, scale ramps, burst through tunnels, traverse a see-saw and weave through a line of poles." With scoring based on faults similar to equestrian show jumping, dog agility can be an exciting spectator sport!
Below are five local Raleigh centers that offer some form of Agility class for your beloved furry friend:
1. K9 Solutions
919-779-3813
Cost: $65
Duration: 3 weeks
Class size varies
http://nck9solutions.com/services/fun-group-classes/
This class focuses on using the built-in surroundings of a city for Agility equipment. We will be having your dog balance on walkways, climb statues and benches, jump over size-appropriate walls. As these classes take place in city areas, your dog will also learn to handle the hustle and bustle of their surroundings.
2.  Teamworks Dog Training
919–855-0422
Once per week for 6 weeks
Cost: $130
Class Max: 6 Dogs
http://www.dogtrainingraleighnc.net/Group_Classes/agility.html
Dogs must be reliable off-leash around other dogs and know directional control commands.   Dogs should be familiar with targeting as a method of training.  Dogs will be introduced to  jumping technique and conditioning.  Full sized obstacles will be introduced at less than the standard heights.  This class can and should be repeated as needed until dog reaches class goals.  This class is held outdoors in our fully-fenced and lighted regulation-sized covered arena.
3. Superior Dog Training
http://superiordogtraininginc.com/
Cost: $125
Duration: 6-weeks
Class Max:         5 dogs
Featuring: Treibball
Treibball, the newest competitive canine sport to come to the US, is an off-leash game requiring the dog to herd 8  exercise balls of varying sizes into a goal, acting on the handlers commands.  Some of the benefits of Treibball include building a stronger bond and improving communication between you and your dog, enhancing off leash reliability and promoting independent thinking.  Many people like treibball because it allows their high-energy dogs to get some serious mental and physical exercise, yet low impact.
4. Thunderpawz
4325 Grassy Field Dr, Raleigh, NC 27610.
http://thunderpawz.com/
919-741-9434
Cost: Negotiated after first evaluation (free)
Class size: one-on-one
Realizing that not all agility teams are the same, we strive to help handlers create a training program that is custom-tailored to the needs of the team. Our broad range of experience allows us to facilitate handlers of all levels of competition by setting attainable and manageable goals. Lessons are conducted at our home-based training field. We generally plan for a lesson with one dog to be an hour long. Your dog typically will not be working the entire time, but you and your dog will come away from our lessons with a sense of accomplishment and that you learned something useful.
5. Town and Country
http://www.tcanimalcare.com/ken_trainers.html
Cost: $125
Duration: 6-weeks
919-387-7833
AGILITY
Level 1: This class introduces dogs to all obstacles and the basics of this exciting sport in which dogs run an obstacle course. Most work is done on-leash so off-lead control is not required at this stage.
Level 2: Agility (Prerequisite – Intro to Agility):
In this class, dogs begin much more challenging sequences and work on mastering six weave poles and the teeter, and they are introduced to crosses and other handling maneuvers. To participate in this class, dogs must be comfortable on all the equipment, including full-height A-frame and dog walk.
Level 3: Agility (Prerequisite – Level 2 Agility):
Dogs are introduced to more advanced handling techniques, and begin running novice-level courses in preparation for competition.  Dogs participating in the Level 3 Agility class must have mastered six-weave poles and the teeter.
Competition Agility: (Prerequisite – Level 3 Agility):
This class is designed for dogs that are ready to compete or are competing. Participants work on handling difficult courses, solving problems and improving handling techniques. To participate in this class, dogs must excel in off-lead control.