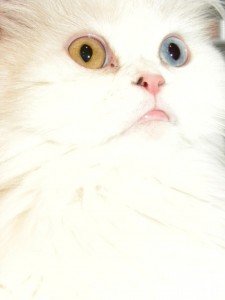 There he is – my Romeo!
Romeo is a big white tomcat, twice my size, and his eyes glow something fierce in the moonlight. He can climb a cherry tree with just his front claws. His ability to balance way above my head is dizzying – little tiny branches that my weight wouldn't allow.
He showed up in my neighborhood last week, unannounced, and seems to be getting on just fine catching birds at the feeder.  I watch him out the window, amazed that he has no place to be, no owner locking him inside on a beautiful day.
This evening he comes to my front porch, caterwauling until the porch light goes. My owner opens the door to yell at him and I bolt out! FREEDOM! We race down the driveway, across the road and into the empty lot full of climbing trees. Thank goodness I still have my claws or else I wouldn't be able to keep up. I follow his lead, crashing through the bushes and leaping over sprinkler systems. Tonight I will learn all about wild-cat fun, roaming the streets with my tomcat.
Our first stop is the garbage bin, turns out Romeo needs more than an occasional bird to keep his energy up. The smell alone overwhelms me, and I hang back, skeptically eyeing the rotten chicken wing he brings over. There are bugs all around me, sharing in the feast, and my stomach does a flip-flop.
Romeo leads the way through a hedge and over to the sand volleyball court. It turns out THIS is his kitty box. Out in the open, where anyone could see!
Next, we will romp in the park, but a fierce possum forces us off the path and we detour through the swampy area. My beautiful paws become covered in gook! I also feel something crawling along my back. Fleas? It itches! I want to scratch them off but the muck will get in my topcoat. This is not what I envisioned!
Romeo has raced up ahead again and my little legs are getting tired. I trudge forward, scanning the grass for dog deposits. Finally reaching the park center, I panic when a loud siren goes off. Where did he go? Romeo? Where art thou Romeo?
I am all alone in the dark, my skin is crawling with vermin, my paws are ruined – the reality is that being a wildcat is not fun. It's work.
I turn around, one thing on my mind: home. Oh to be in my clean house with a soft bed and fresh food. I drag my ragged, worn out legs all the way back to the porch and meow. Pitifully. After what seems like an eternity, my owner opens the door. "Oh Slider, what happened?"
She scoops me up, towels me off, and sets me down with a fancy feast liver pate. Heaven!
Just call me a house-cat, I don't mind.