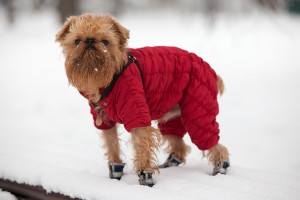 My dog shivered as she put a paw down on the  frosty deck. Her tail drooped and then she walked backwords through the door right into my shin! Really? You see, Shadow has sensitive feet and does not like to pee in cold, much less walk around the block. "This is a problem…" I scolded her "…and the solution is to go shopping!"
We hopped into the car and ironically "Baby it's cold outside" was playing on the radio. Passing the big box petstore, we pulled into our local Unleashed. There were the ususal assortment of leashes and treats up front. As we passed, Shadow strained her entire body to sniff these. I wondered if there would there be a little area to "try on" dog shoes? "Yes ma'am, Over on the sidewall under the jackets" said the shop owner.
I had no idea there were so many styles and price points! Ruffwear Bark and Boot or Trex were on the higher end at $90. East Side Collection Sherpa boots were mid-range, coming in bright colors at $25. Both Muttluks and Guardian Gear ranged from a $12.99 sock to a $64 fleece lined boot. On Amazon, the most popular dog bootie was Fashion Pet Lookin Good at $15. It has a velcro strap and reflective tape on top so they are easy to get on/off. The second most popular brand was Ultra Paws Durable Dog Boot, a thicker sole and fleece lining bumped the price to $35. I compared quality and cost, keeping in mind that Shadow and I live in the south and would not be doing the Iditarod or seeing much snow anytime soon!
1. First step, Sizing.
We walked over to the Muttluks sizing chart that measures the entire paw, including nails, with sizes ranged from Itty Bitty at 1 inch to XX Large at 5.25 inches.
2. Second step: fitting.
We tried on the Hott Doggers stretchy economy boots but they were hard to pull on. The velcro strap on the more expensive boot was much easier to adjust. Standing over her, I lifted each paw at the elbow and wiggled the boot on, then pulled tight with the strap. There was quite a bit of extra strap that we will cut off at home.
3. Third, pricing.
After an elaborate fitting and many "Why are you doing this to me" looks from my dog, she walked out wearing the Fleece Lined Muttluks.

Local Pet Shoppes:
Oliver's Collar,  4711 Hope Valley Rd, Durham, NC 27707, (919) 401-4888
Other End of the Leash, 1000 W Main St, Durham, NC 27701, (919) 908-1887
PetMania
1. 7901 Falls of Neuse Rd #125, Raleigh, NC, (919) 676-3225
2. 5289 Sunset Lake Rd, Holly Springs, NC 27540, (919) 362-8711
PetPad,  1239 NW Maynard Road, Cary, NC 27513, (919)-481-6614
PetPantry,  2521 Schieffelin Rd, Apex, NC 27502, (919) 303-1990
Phydeaux
1. 10 W Franklin St #100, Raleigh, NC, (919) 833-9216
2.  6464 Tryon Rd, Cary, NC 27518, (919) 977-7103

Unleashed – The Dog and Cat Store
1.   2460 Wycliff Rd, Raleigh, NC, (919) 858-6460
2. 2066 Kildaire Farm, Cary, NC 27518, (919) 977-1329
Woof Gang Bakery and Grooming
1. 13600 New Falls of Neuse Rd, Raleigh, NC 27614
2.  305 Ledgerstone Way, Cary, NC 27513, (919) 297-2275
Paws in the City,  1105 Tryon Village Dr, Cary, NC 27518, (919) 851-5853