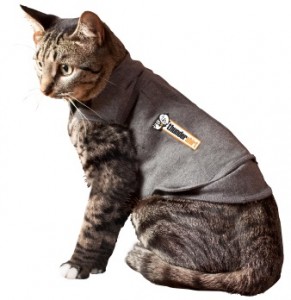 When every single hair on my tail stands on end, you know I have been spooked! Originally it was only thunderstorms with their booming claps that sent me diving under the bed. Over the next year, loud noises like firetruck sirens, ambulances or simply a backfiring muffler caused me to hit the floor and hide.
At first my owner laughed at my noise phobias, but as they continued to multiply in number she realized that I had a serious need for…
The Thunder Shirt!
Made not far from my Raleigh home, in downtown Durham, the snug-fitting jackets are amazing!Immediately, when it was put on me, I calmed down and felt secure as if my owners arms were wrapped around me.
How does this invention work?
Much like a tightly swadled baby calms down immediately, putting one of these snug jackets on applies pressure, "which has a calming effect on the nervous system, possibly by releasing a calming hormone like endorphins"-Thundershirt website.
The Thunder Shirt was founded in 2009 after "…proprietary research also uncovered that over 30% of pets suffer from one or more of these anxieties making anxiety one of the leading issues for today's pet parents."Sure, they were originally made for dogs, but I consider them the test market!
Here is the link for cats size 6-13 lbs. If you are a bit "fuller figured" then I suggest checking out the dog sizes:
http://www.thundershirt.com/Product/ThundershirtForCats.aspx?item_guid=04a62476-dd84-4c67-ae9b-83f2fb67db81       
Check with your local veterinarian about the results they have seen, I consider myself the unofficial spokesperson for the Thunder Shirt and it's success story!