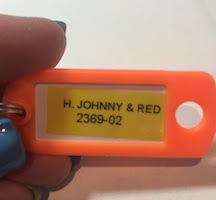 We are often asked is it safe for you to keep our keys? and Why don't you return them when you are done?
Our policy at Four Paws Pet Sitting Services is that you give us 2 keys and we do keep the keys on file unless you object. (it's up to you!)
Your keys are never marked with your name or address. We use an ID # on each key and all keys are stored in a locked file cabinet at our office.
Now, keep an open mind and see why it is beneficial for us to keep your keys.
1) We will have your key for future pet visits. We are always ready to be there for your fur babies. If we don't have your key, a time to meet will need to be set up and if this is last minute, that could be a problem. There will also be a trip charge.This is the last thing you need when getting ready to go out of town.
2) Last minute visits! It is wonderful to have us as your trusted pet sitter and know that we can be there for last minute visits. Life happens and people are called out of town with little warning.
3) Lock outs. Have you ever been locked out of your home? We can come to the rescue and it won't cost you like a locksmith.Next blog, read why we ask for 2 keys!
Four Paws offers pet sitting, dog walking, overnight visits, pet taxi and house visits in these areas: Raleigh, Cary, Apex, Holly Springs, Morrisville, Fuquay-Varina, Garner, and some of Clayton, NC.
New clients may send us a email and inquire about our services HERE.
Four Paws Pet Sitting Services (919) 388- PAWS (7297)