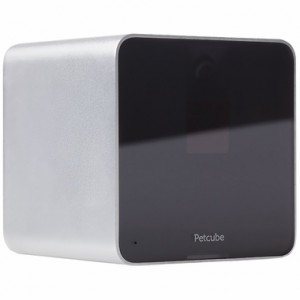 When you are away, do your pets play? Do they surf the counter, lick the dishes clean, or hide under the bed?
Does your neighbor that's house sitting snoop around the house? Does your pet
sitter
duck in and out or really get down on the floor and play with them?
The answer to these question is revealed by watching real-time footage on your computer or smart device that is mounted strategically in your home. When you begin shopping, a few things to consider:
1. Do you want a hidden camera, ceiling mounted, or free standing unit? Should it be plug in or Wireless?
2. Do you need  high-quality resolution or simply a feed of the activity in your home?
3. Do you want the footage recorded to the cloud or a tape for later playback?
4. Is cost an issue?
A few highly recommended cameras with details about their features are listed below. Just make sure to read the reviews before you buy, so that you know the limitations of each camera.
Nest Dropcam Pro (voted best in 2015)
$199.00
Ceiling mounted
Easiest set-up: Just plug the camera into a power source, take a photo of the QR code with the iOS or Android app (see, QR codes aren't completely worthless) and plug in your wireless password.
captures 1080p video (up from 780p), has 8x digital zoom, night vision and two-way communication so you can yell at a burglar or listen to your dog bark at the bathtub.
Motorola Pet Scout66 Wi-Fi HD Pet Monitoring Camera
by Motorola, $93.69
Remote HD quality video streaming (requires internet access via Wi-Fi)
Set up in seconds using the Free Hubble App
Motion triggered recording and image snapshots (requires compatible viewing device with storage capability)
Two-way communication with high sensitivity microphone
In room temperature display and infrared night vision

Sundirect HD 720P Wireless
Price:$149.99
Remote Live Video Streaming Via Smart Phone, Tablet or PC Web Browsers (IE/Firefox/Safari/Google etc)
720P HD Video Capture | 12 Infrared LEDs for Clear Night Time Recording
Video Recording to Internal TF Card only ?Support Max 32GB), No Remote Recording
Motion Detection Video or Snapshot Alert
Clear 2 Way Voice, 4x Digital Zoom, Pan and Tilt Controls

Petcube Camera
$199.00Material: Aluminum
Size: 4″ x 4″ x 4″
Petcube Camera features a wide-angle (138º) camera along with real time HD video so you can see your pet easily.
You can also talk to your pet as the camera has a built-in microphone and speaker.
With the unique laser pointer toy you can play with your pet from your smartphone
Share photos from the camera with friends using the Petcube App